Preservation Walk
PBA members can help preserve the association's historic buildings in Harrisburg by purchasing an engraved stone in the PBA Preservation Walk. Get the project brochure
and

order form

.



Lawyers Saluting Veterans Program
The PBA is recruiting lawyer-volunteers for the Lawyers Saluting Veterans program coordinated by the

PBA Pro Bono Office
and

Military and Veterans' Affairs Committee
.
Military veterans and lawyer volunteers interested in the program, click here
.
Contacting or Becoming an Advertiser in PBA Publications
Click here
for the online list of and links to display advertisers featured in the latest issue of
The Pennsylvania Lawyer
magazine. Click on the following links for information on and links to classified advertisers in the latest issues of the
Lawyer magazine
and the
Pennsylvania Bar News biweekly newspaper
. Would-be display advertisers,
click here
for information about getting your ad in PBA publications. For information on placing a classified ad in PBA publications, call 800-932-0311, ext. 2226.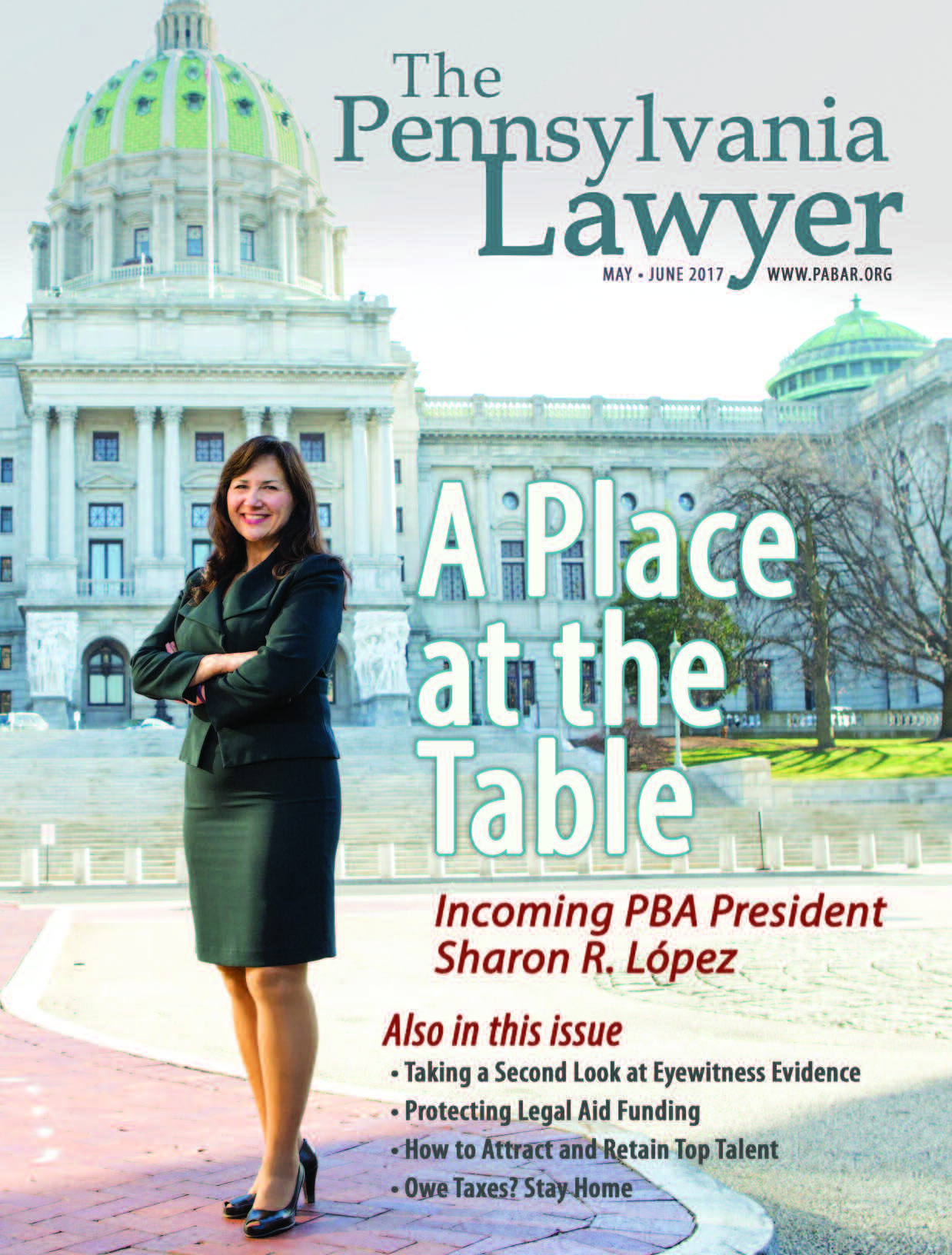 Online Access to the

Lawyer

Magazine




PBA members, you have online access to

The Pennsylvania Lawyer magazine in PDF and e-dition formats. Misplaced a back issue of the magazine? Retrieve it online using your PBA member login
.
If you are a lawyer in practice in Pennsylvania and not a PBA member but
interested in joining
the PBA, check out the
benefits
of membership and
join the PBA
.
Be Alert to Internet, Email Scams
If you receive what seems to be a fraudulent email, it should be deleted unopened, as it likely contains malicious software. In the past, PBA members have reported receiving scam emails from would-be "clients" and from others claiming to represent the IRS. Concerned members, click here
to file a complaint with the
Internet Crime Complaint Center
, and read more about IRS-related "phishing" and how to report it
here
.
Meet State Supreme Court Justices in PBI Webinar
Meet three new Supreme Court justices in a PBI webinar replay and earn 1.5 substantive CLE credits. The webinar features Judge Mark A. Kearney of the U.S. District Court for the Eastern District of Pennsylvania as moderator with Justices Christine Donohue, Kevin M. Dougherty and David M. Wecht in a fast-paced discussion offering the jurists' insights on the court and how it operates. Remaining webinar replay date: Sept. 30, noon to 1:30 p.m. Get
more information
.